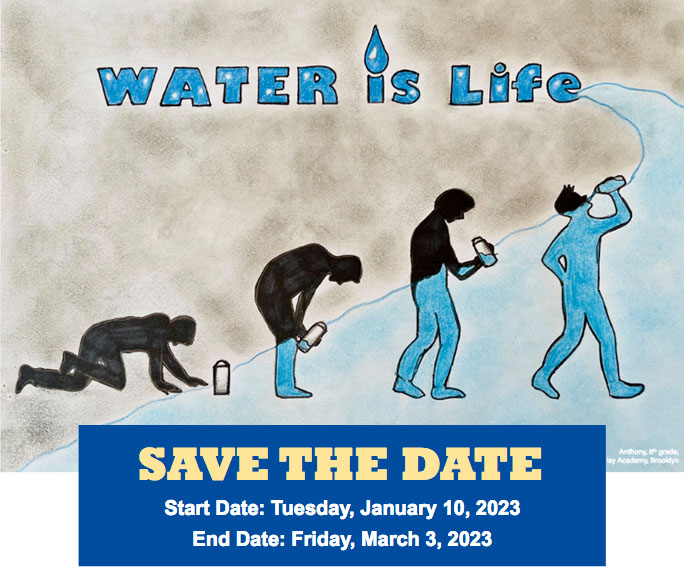 Dear Educator:
The New York City Department of Environmental Protection's (DEP) Education Office is pleased to provide you and your colleagues with the following educational programs and resources.
We are excited to share a Save the Date for our 37th annual Water Resources Art and Poetry Contest, continue reading to learn more.
Contact educationoffice@dep.nyc.gov for more information or if you have any questions.
Thank you,
Helene Amato
Education Project Manager
NYC Environmental Protection
(o) 718-595-6557 | (m) 646-675-8558
HeleneA@dep.nyc.gov
Become a fan of NYC Water at
facebook.com/nycwater
____________________________
STUDENT OPPORTUNITY:
Water Resources Art and Poetry Contest
SAVE THE DATE! DEP's 37th annual Water Resources Art and Poetry Contest will kick off on January 10, 2023. Second through twelfth-grade students in New York City and the East and West of Hudson Watersheds are invited to create original art and compose poetry that reflects an appreciation for our shared water resources. The five central themes of the contest, incorporating STEM and humanities disciplines, include Water, a Precious Resource; NYC Drinking Water; NYC Wastewater Treatment; Harbor Water Quality and Healthy Marine Ecosystems; and Water Stewardship and Climate Change.
Entries will be accepted
online from:
Tuesday, January 10 –
Friday, March 3, 2023.
To learn more,
Water Resources Art & Poetry Contest.
For questions, contact
artandpoetry@dep.nyc.gov. 
____________________________
EDUCATIONAL RESOURCES:
Understanding NYC's Water Story:
A Curriculum Guide for the Classroom
This exciting curriculum guide for K-8 classrooms is a compilation of successful STEM lessons and activities, designed to support an interdisciplinary, hands-on approach to teaching. This comprehensive guide of lessons, activities, and resources helps teachers and students explore NYC's water story, from drinking water and wastewater to stormwater and harbor water. The curriculum guide is also aligned to the New York State Science Learning Standards and Amplify Curriculum. To learn more, click Curriculum Guide for K-8 Teachers. To request a printed copy, complete the Education Resource Material Request.
Jamaica Bay Education Resource Directory
Explore resources and program opportunities in and around the Jamaica Bay watershed, one of the City's most unique, ecologically rich, natural areas. Download Jamaica Bay Education Resource Directory. To request a printed copy, complete the Education Resource Material Request.
NYC Water Virtual Tours
Explore NYC's incredible water resources using our virtual tours of the NYC Watershed, Sewer System, Wastewater Treatment, and Harbor Water Quality. Featuring staff interviews, in the field footage, interactive maps, and historical images, these virtual tours will help you discover where your drinking water comes from, what happens after it's flushed down the drain, and how we can all help protect our waterways. At the beginning of each virtual tour, you will find a Student Worksheet for following along. We recommend these resources for 6-12 grade students, as well as 3-5 grade students guided by an educator or family member. Adults will enjoy these fun, digital resources too! To learn more, click NYC Water Virtual Tours.
Sound and Noise Education Module
DEP's new Sound & Noise Education Module features interactive, multi-disciplinary, STEM lessons and activities to introduce students to the New York City sound environment and the public health issues, both mental and physical, associated with noise. Lessons and activities include investigating the differences between sound and noise, mapping sound, analyzing local data, and exploring the NYC Noise Code. DEP's education modules provide background information, lessons, activities, and additional resources. Check out DEP's other online education modules on Climate Change, Green Infrastructure, and NYC's Sewer System.
For more information about DEP's education resources, please visit www.nyc.gov/dep/education. To keep up with DEP's activities, click on the links below:
DEP website:  www.nyc.gov/dep
Facebook:  www.facebook.com/nycwater/
Instagram:  www.instagram.com/nycwater/
Twitter:  www.twitter.com/nycwater
Medium:  www.medium.com/nycwater/
Flickr:  www.flickr.com/nycwater/
____________________________
ADDITIONAL RESOURCES AND OPPORTUNITIES:
Clear the Air, Stop Idling!
Help us to Clear the Air, Stop Idling! Join DEP in reminding your school community that the law limits vehicle idling to no more than ONE minute when adjacent to a school. For more information about idling, visit TURN IT OFF to Clear the Air.
Building Community Resilience in a Changing Climate Series
NYC Department of Education's Office of Sustainability invites teachers to three full-day, in-person trainings to explore the "Urban Heat Island Effect" and consider how to use it as a way for students to become citizen scientists and environmental justice activists. Using a classroom set of heat mapping tools (yours to keep!), explore surface and air temperature data and discuss how students can design their own investigations to collect data to identify at-risk neighborhoods, evaluate the effectiveness of different action strategies, and design ways to present their findings. Up to 15 CTLE credits available 5th-10th grade educators, apply with a colleague here by Monday, December 12.
Watershed Education Grants
The Catskill Watershed Corporation is now accepting applications for Watershed Education Grant Proposals. If you're interested in starting a Trout in the Classroom program in your school, this is a great funding opportunity to help you get started! If you would like more information about the Catskill Watershed Corporation and upcoming education grant opportunities, contact Samantha Costa, scosta@cwconline.org. Visit watersheducators.org for information on field trips, classroom programs, streamside and digital learning opportunities. Applications due by February 3, 2023 by 4pm!
Watershed Forestry Bus Tour Program
Apply now for in-person fieldtrip funding to the NYC Watershed for spring 2023 through the Watershed Agricultural Council's Watershed Forestry Bus Tour Program. Discover the world-famous NYC Watershed and forest-filtered water supply system first-hand! Check out the four Watershed Forestry Bus Tour options that explore the source of NYC's water and how forests protect water quality. You can plant trees, release trout, and learn at environmental education centers. All trips include a guided tour of a drinking water reservoir. Check out the website to download the current application today. Applications due Friday, January 6, 2023 by 5pm.